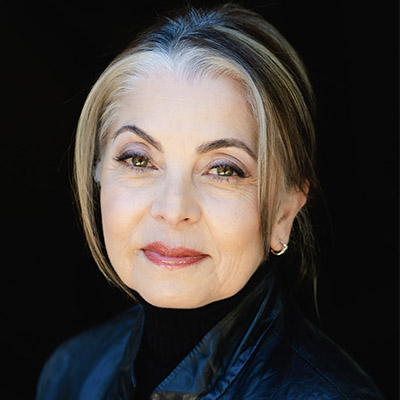 ('84) Chair
Founder and President, MOZAIK Foundation
Iranian-American businesswoman and philanthropist Neda Nobari emigrated from Iran to the United States in 1978. She earned a degree in Computer Science from San Francisco State University in 1984 and a Master's Degree in Liberal Studies from Dartmouth College in 2015.
After a brief career as a software engineer, Nobari switched to fashion industry from 1984 to 2006. At bebe, Nobari established the company's IT department, served as the Vice President of Design and Merchandising as well as the Vice Chair of the Board in addition to many other roles while the company expanded from three small boutiques to a publicly traded company during her tenure. In 2007, she established the Neda Nobari Foundation with a philanthropic mission of promoting social and environmental justice through arts and education. Her private foundation was later rebranded to MOZAIK Foundation in 2020 with a mission to democratize philanthropy through the exploration and modeling of new practices with disruptive, creative and catalytic potential. A lifelong benefactor of social issue film, Nobari has executive produced and supported over two dozen documentary films including the 2019 Oscar-nominated short "Los Commandos" and the 2020 Oscar-submitted feature "Coup 53".
An inaugural member of the SF State Foundation's Board of Directors, and its current Chair, Nobari has been a consistent advocate for growing the University's public prominence and securing resources to further its mission. As a member of the board's investment committee for many years and its Chair for one term, Nobari has actively worked with fellow board members, faculty and staff to adopt socially responsible investment policies for the foundation's endowment and pivotal in the establishment of the "Green Fund" leading the way in eco-focused investing.
Nobari's work at the University includes establishment of the Center for Iranian Diaspora Studies , supporting the renovation of the J. Paul Leonard Library, supporting former foster youth through the Guardian Scholars Program and leading efforts in support of the HOPE Crisis Fund.
In 2019, Nobari augmented the endowment with additional support for post-doc and graduate fellowships as well as undergraduate and faculty scholarships to promote engagement across campus and with other universities.
Neda was the 2017 Commencement speaker at San Francisco State University's 116th Commencement ceremony held at Oracle Park. She was named the 2020 Alumna of the Year and was inducted into the San Francisco State University Alumni Hall of Fame.