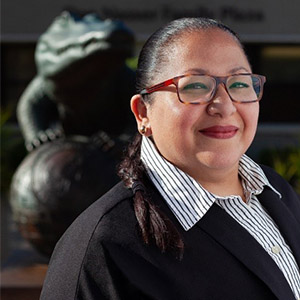 ('00) Owner, Carmelina's Taqueria 
Peruvian-American business owner Karim Salgado (B.A., '00) immigrated to the United States from Peru in 1979 with her mother and brother. She double majored and earned her degrees in Sociology and Criminal Justice from San Francisco State University in 2000, making her the first in her family to earn a college degree.
Before opening her own business, Karim worked for several San Francisco based companies including, Wells Fargo Corp., the Gap, in their Loss Prevention Departments and U.S. Customs (Homeland Security). In 2002, she went on to open her business on the UCSF campus. Karim has also volunteered and worked with several community organizations over the years.
As of recently she has served on the SFMTA Citizen Advisory Committee (2020-Present, appointed by Mayor Breed), Daly City Partnership Board of Directors (2023-Present), Western Neighborhoods Project Board of Directors (2020 - 2022) and on the San Francisco State University Honoree Doctorate Committee (2023).
Karim established two endowed scholarships at San Francisco State University in the Business and Literature Departments in honor of her loved ones to help support students economically.