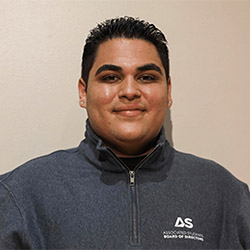 Chief of Staff, Associated Students
Iese (Pronounced YES-AY) is the current Chief of Staff of San Francisco State's Associated Students board of directors, and also serves as the chair of Associated Students' Audit Committee. Iese is an experienced leader and manager having been a residential life lead desk assistant, where he was responsible for supervising and mentoring 45 desk assistants and overseeing six community desks campus wide. Currently, Iese supervises and mentors 50 first-time freshmen desk assistants and organizes educational programs and resources for 800+ residents.
Iese participated in the SFSU President's Leadership Fellowship Program, (PLFP) during which he honed his interpersonal and teamwork skills. He served as a liaison between PLFP and non-PLFP students and worked closely with university faculty in professional development workshops.
Iese serves on several boards and councils, including the University Corporation, San Francisco State (UCorp), the Resident Life Directors Advisory Council, and the Music Student Alliance. 
Finally, Iese is currently pursuing his Bachelor of Arts in Music, Vocal Performance and a minor in Political Science.