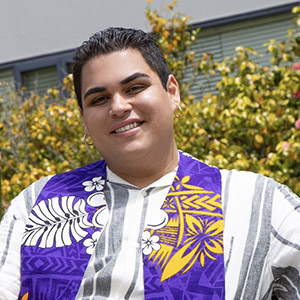 Chief of Staff, Associated Students
Iese (pronounced YES-AY) Esera is the current chief of staff and chair of San Francisco State's Associated Students Board of Directors. He also serves as the chair of Associated Students' Audit Committee and is a member of the AS External Affairs and Rules Committee. Iese is an experienced leader and manager having been in the department of Residential Life as a lead desk assistant, resident assistant, and Program Assistant.
Iese participated in the SF State President's Leadership Fellowship Program, (PLFP) during which he honed his interpersonal and teamwork skills. He served as a liaison between PLFP and non-PLFP students and worked closely with University faculty in professional development workshops.
Iese has served on several boards and councils at SF State, including the University Corporation, San Francisco State (UCorp), the Residential Life Directors Advisory Council and the Music Student Alliance. In addition to serving his second term on the Foundation Board, he currently serves on the University Budget Committee, the Title IX Implementation Committee and the CSU Systemwide Committee on Student Mental Health Services. 
Iese earned a bachelor of arts in music and vocal performance in 2023. He is currently a graduate student earning a master of public administration degree with an emphasis in nonprofit administration.