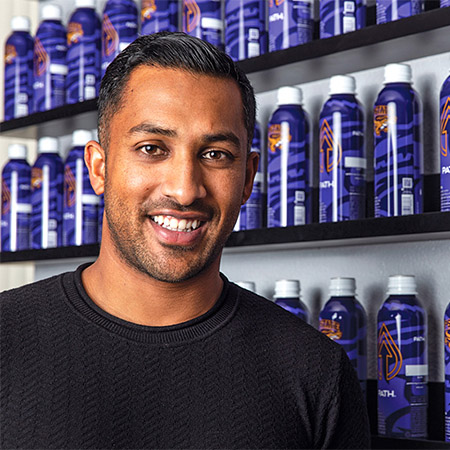 ('16) Partner, Vice President PATH
Gulshan Kumar is partner and vice president of sales of Fremont-based PATH, a producer of responsibly and locally sourced purified water in refillable aluminum water bottles. "Globally, plastic is recycled less than 10%, versus aluminum, which has a 70% or higher recycle rate. The best form of sustainability is reusability, and we want to teach consumers to use less," he told SF State in 2021. He hopes the company's product will help phase out single-use plastic water bottles.
He joined PATH, formerly PathWater, in 2017, aiming to turn a high school friend's idea into a thriving business. In just a few years, he grew the company from a few clients to being sold at 35,000 retailers across the country, including Sprouts, Safeway and San Francisco International Airport. The company also has partnerships with Intuit, Dropbox, Facebook, Tesla, Orange Theory and San Francisco State.
Kumar has become very involved with SF State as an alum. He has participated in entrepreneurship panels for the Lam Family College of Business and is currently working with Career Services and Leadership Development to list job openings at PATH, creating opportunities for fellow Gators to join his team. He worked closely with the SF State team to create, distribute, and promote branded PATH bottles on campus, thereby helping the University reach its sustainability goals.