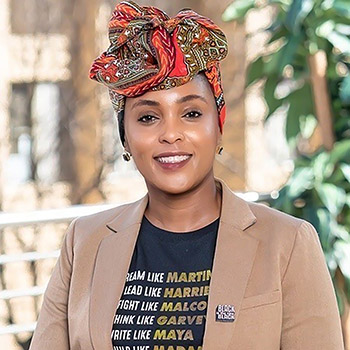 ('06, '11) CEO, Wachira Wines
While working in Neuroscience Clinical Outcomes at Stanford Healthcare, Dr. Wachira's love of science triggered a curiosity in the science of winemaking. She followed her passion for wine and cultivating community and in 2017, she launched Wachira Wines, where she serves as CEO. Based in Alameda, California, Wachira Wines is the first Kenyan American winery in the US.
Wachira (BSN, '06;'MPA, '11) also launched Karibu Wine Lounge, the first Black-owned winery tasting room in the city. Wachira is dedicated to crafting world-class wines and tasting experiences that are true to her Kenyan roots. The 2022 San Francisco Chronicle Wine Competition recently awarded four medals to Wachira Wines: double golds for Wachira Cabernet Sauvignon, silver for its Chardonnay and bronze for its Sparkling White wine. As an African American woman in a not-so-diverse industry, Wachira is driven to pay it forward to other underrepresented groups and is launching a wine incubator program.  
Wachira continues her important work in health care while building the Wachira Group's portfolio and disrupting the beverage industry by eliminating barriers and creating market access for brands produced by minorities and local small-batch crafters. She is also the founder and executive director of the Institute for Clinical Excellence-Africa, a nonprofit dedicated to improving health care delivery.  
Dr. Wachira earned her bachelor's in nursing from San Francisco State University in 2006, followed by a Master of Public Administration (MPA) in 2011. She went on to earn a Doctor of Nursing Practice at the University of San Francisco in 2017.